Click on "Conference rooms" in the menu on the left to get to the conference room overview. The overview displays a list of all conference rooms assigned to you. You can see the moderator/participant PIN, the current room mode and the announcement language at a glance.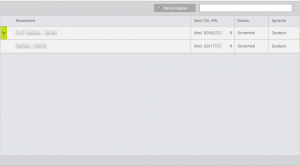 Via the upper right bar you can sort your room view and filter it according to your favourites.
Via the search field you can search for the room name, the room owner or the mod./Tln.-PIN. You can use the filter to filter according to your rooms or favorites.

By selecting a room, the functions available for this room appear: